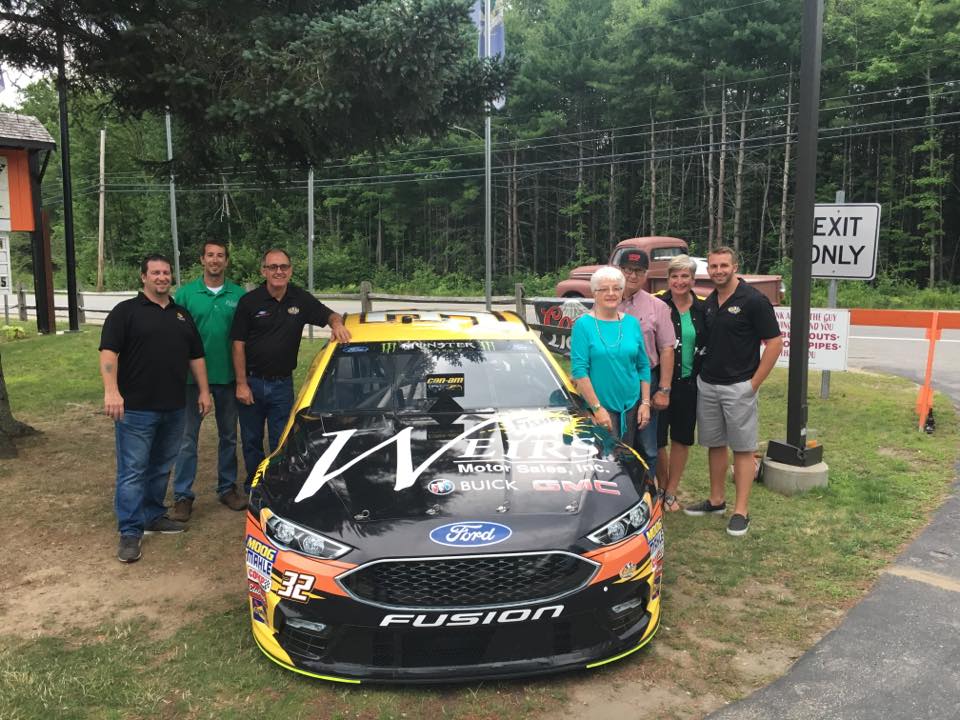 WEIRS BUICK GMC AND GO FAS RACING TEAM UP FOR THE 2019 FOXWOODS CASINO RESORTS 301
May 18, 2019
The 2019 Monster Energy NASCAR Cup series is underway. This year Weirs Motor Sales Inc. and Fisher Snow Plows are once again teaming up with Go Fas Racing and the #32 Go Fas car with driver Corey LaJoie behind the wheel as he looks to have another successful season.
Weirs Motor Sales Inc. and Fisher Snow Plows have been a sponsor of the Go Fas team since 2015.
"The partnership between Weirs and Go Fas Racing is a great one because both companies share the same values," said Pierre Faucher, Parts Manager at Weirs and a long-time friend of Go Fas owner Archie St. Hilaire. "Both companies are family owned businesses that are dedicated to providing the best products to fans and customers alike."
Weirs Buick GMC, located on US Route 1 in Arundel, Maine, has been in business for more than 58 years. St. Hilaire joined Go Fas Racing in 2014 after running his own team Green Racing.
"We really enjoy the opportunity to support Go Fas Racing, and in turn we are getting the Weirs and Fisher names out for everyone to see," added Faucher. "NASCAR is such a popular sport. With our logos prominently displayed on a great car with a great team, we'll get exposure to fans across the country."
There's no better place to see Weirs and Fisher displayed than at this year's Foxwoods Resorts Casino 301, July 21st at Loudon Motor Speedway.
"This is the largest motorsports event in New England," explains Linda Zuke, General Manager of Weirs Motor Sale Inc. "Our customers come from all over New England looking for their next new vehicle or a new Fisher Plow to tackle the long winters, so it makes a lot of sense for us to get our name out there at such a popular local event."
Fans of Weirs and Go Fas Racing will have a great opportunity to see the car and meet and have a picture taken with driver Corey LaJoie at an event July 17th at Bentley's Saloon on Route 1 in Arundel. There will be food giveaways and prizes including, koozies, sunglasses, t-shirt and hats. Fans can also register to receive #32 Go Fas hero cards, five sets of tickets will be raffled off and the grand prize of 2 Hot Passes for the Foxwoods 301 race on July 21st.
"Our fans are very loyal," said Zuke. "It's great that we'll have a day to get together, celebrate our partnership and get excited for race day."
More information on the July 17th event will be posted on the Weirs Buick GMC website https://www.weirsgmc.com/Blog.